1/09/2008
My parents took us to New York City for Christmas. It was a really fun trip. In no particular order, here are the things we saw and did:
Looked at Rolexes for $25 in Chinatown, watch out for the cops
The old Yankee Stadium, to be torn down soon
Times Square madness
East Village hipster central
7 floors of Macys
Dozens of street musicians and subway artists
Ground Zero - giant hole in the ground
Assault rifles and police on Wall St.
One neighborhood in the Bronx (lets get back on the train)
Ice skating with hundreds of kids in Central Park on Christmas
Freezing cold boat ride around the city at night
Seeing the city from the top of Rockefeller Center.
Watching the Lion King on Broadway
Watching the old fashioned Rockettes show on Christmas
Walking all the way across Manhattan in the rain at midnight just because
A couple of crazy taxi rides
Ran through a Brooklyn Ghetto
One really snooty modern art museum
Wandered through Times Square on New Years Eve
Breakdancers in Columbus Circle
Here are some pics - some are goofy, some are pretty and some are just strange.
New York City photos
.
12/28/2007
We're on our seventh day in New York and we're having a great time. Jessica and I just moved from the Mid-town apartment with my family to a little one bedroom Craigslist rental on the Upper East Side near Central Park. Tonight we took the subway down to
hipster
paradise, a grungy neighborhood of the Lower East Side, where we went to a very
unusual modern art museum
and ate world famous pastrami at
Katz' Deli
.
Here is the view from our little place for the next few days.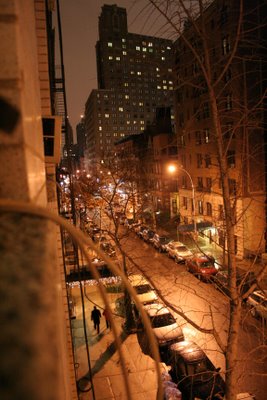 Of course, more when we get back.