Travsite.com: April 2008
Posts
4/14/2008
I go to work pretty early... I get up before the sun rises. Today I got up and put my shoes on in the dark. When I got to work, I noticed this...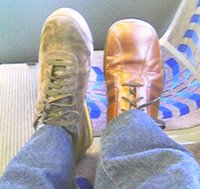 Maybe nobody will notice. It's going to be a long day.
Labels: random
4/08/2008
If you don't want to check this site for updates, sign up below and FeedBurner will send you an email whenever there is a new post on my site. Your email address is completely private.

Labels: technology
4/06/2008
Dad took the whole family out to the desert for a weekend to watch the Mojave 250 race. It was fun. Go here to view the pictures.