Travsite.com: January 2006
Posts
1/26/2006
This van caught my eye in the Tustin Marketplace parking lot. Some people just can't stop after that first bumper sticker.
Labels: orange county, random
1/24/2006
I've been keeping my favorites on this site called "Del.icio.us". It's basically a collection of my personal bookmarks organized by tags. I put my links at the top of my "Friends" page:
http://www.travsite.com/Links/index.html
1/22/2006
We went to the Anaheim Supercross tonight. What a blast! Check out the pics.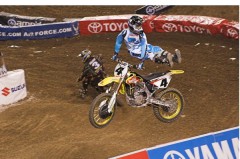 Labels: off-road, orange county
1/14/2006
We went on the Pilot Rock Truck Trail from Silverlake up to Lake Arrowhead.
Click for pics.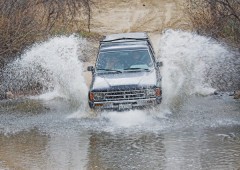 Labels: off-road
1/11/2006
This is quite a long receipt, considering all I bought was ONE SANDWICH for lunch. What craziness.
Labels: random
1/08/2006
SOLD
1989 Yamaha Blaster - runs great, good quad for kids. Sand paddles included. Click pictures for larger size. Email
blaster@travsite.com
for more info.
Labels: off-road
1/01/2006
Jessica and I went up to Big Bear with Phil and Sarah for the New Years' weekend. We did some off roading, freaked out some snowboarders, threw sticks at dogs, broke a Hummer, and took alot of cheesy photos.
Here are the pics



Labels: off-road