Glamis Sand Dunes, November 2005 - Page 1
We went out to Glamis this weekend. We met up with a bunch of people and had a blast. I got to try out my new camera, so I took way too many pics.
View Glamis photos from other trips - Glamis on
John riding the KX 250
Dave and his beast
Dang, I forgot his name.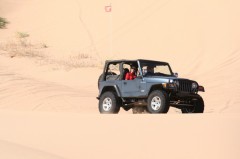 Mark's TJ
Dan and his Cherokee
Dad crusing the dunes in his Frontier
And then he cruised himself right into a ditch.
Mark backing down!?
Nice Jeep though