Travsite.com: August 2008
Posts
8/23/2008
More joys from our house. Sewer clogged, Dad came over with a snake. This monster came out of the end. Time to order some dangerous chemicals on the Internet.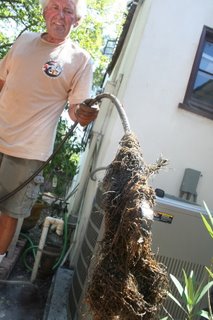 Labels: house
8/06/2008
This is my new nephew, baby Slater. He was born today and now he's kind of tired.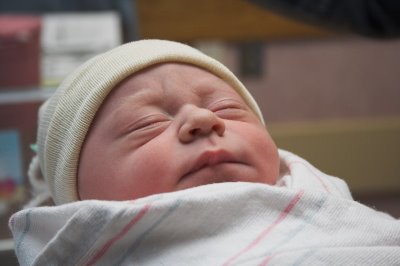 Labels: family
8/02/2008
We have a tree problem at my new house. I counted them today - 80 trees.
Then I found the solution at a garage sale up the street. An old 5 horsepower wood chipper for $75. It's a good chipper, but when it doesn't like a tree limb, it spits it back at your face. I spent the day forcing down the remains of a dead pine tree that my dad help me cut down last weekend.
While I was doing this my new friend, Sefarino de Homedepot, filled at least 25 trash bags with leaves.
Labels: house