3/12/2007
Three days and 138 miles of beautiful, untouched high desert that begins at the Colorado River and ends near Barstow California. We had a great trip this year with 20 guys in 13 vehicles. Nobody broke down, nobody got hurt and everyone got along. Can't ask for much more than that.
Here are the pictures.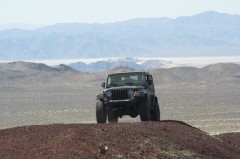 ---
---
I know I work on Sundays, but still nobody invited me?... OK I get the picture. ;-)

This looks like a blast!

Jeff Hamilton
---
Jeff, you don't really seem like a dirty desert kinda guy. Who knew! I'll put you on the invite next time.
---
So who won the photo contest we had in the joshua tree portion?

Thanks for organizing this trip, may be next time I can drive it. :)
By at ,12:35 PM
---
What a blast man! Thanks again Trav for the invite and all the work!
---
What a BITCHIN time! thanks for all the pre-trip planning you did. I re-lived it in my mind all day monday
dad
---
My first off road trip and I had a great time. A great bunch of guys to spend time with.
By at ,12:46 PM