Glamis Sand Dunes, November 2005 - Page 7
Another stinkbug macro.
Back at camp.
I think I see some sand in your teeth.
Dave's Four-Runner.
cool guy.
I'm wheeling
This guy broke his dirt bike, so my Dad gave him a ride back to camp.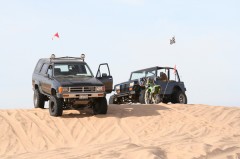 Toys
Who is that guy?